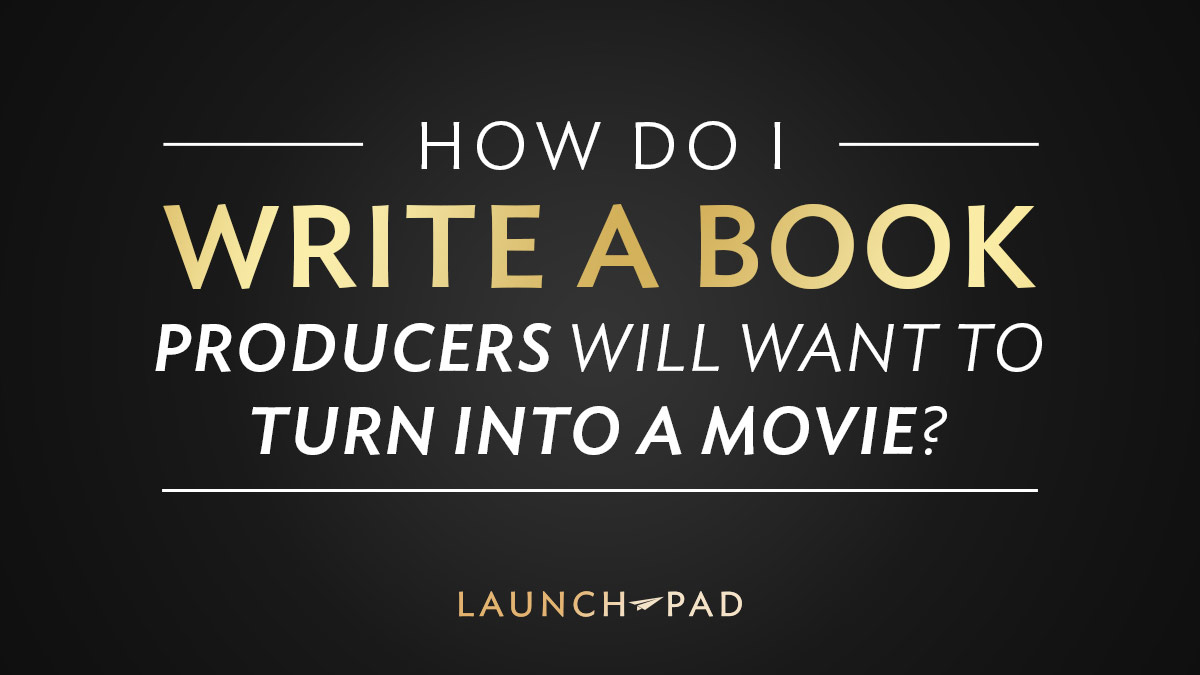 Features are expensive and fewer and fewer producers want to take a gamble on a project without an audience. For those of you who have written a book, this could actually be a good way for you to get into the film industry, since so many studios are on the hunt for IP.
However, how do you know if your book is something producers would be interested in? And furthermore, how can you punch up the manuscript you're currently working on to make it more appealing to those who'd want to get it up on the big screen?
Let's take a look at a few aspects of storytelling, as well as some advice from managers, agents, and development execs, that will help you craft a book that is ripe for the cinematic plucking.
Make Sure the Story Engine Drives Your Story
If you want to write a book that sells, the first thing you need to know is simply what kind of stories producers want. In talking about selling a TV show with a series bible, Coverfly's Head of Development, Geoffroy Faugerolas, emphasizes the story engine. 
"I literally hear this. I have no doubt that someone can write a 10 episode story or have storylines that span that length of time, but there needs to be a clear generator of conflict and purpose at the core of the series that will drive EVERY episode."
Whether it's a series bible or a book, producers need to be able to see the protagonist, the world, and the conflict in a combination that will connect with audiences quickly. They want to see this in whatever format they're receiving the story (ie. pitch, script, short film, Twitter thread, novel, etc.). 
How quickly you communicate that story engine is imperative to hooking a potential producer. Phoebe Schmidt, Paradigm agent and judge for the Launch Pad Prose Competition, seeks out a marketable hook. 
"As an agent, I would say a 'marketable hook' is definitely an excellent first impression, but it needs to be followed up with a genuine connection to the real world. I don't mean that it has to be about the real world or even use realism, but it needs to make whatever world it's in accessible to the reader and invite them to explore something they wouldn't otherwise."
Read More: Is Your Prose Project Actually Prose?

Study What Works
If you want to write scripts, you should read them. If you want to write novels, you need to read them. And if you want to write a novel with an eye towards adaptation, you need to read scripts, books, adapted screenplays, and books that were later adapted. And there's no shortage of material available to you. The TSL Script Library has hundreds of screenplays available to download for free, and there's no shortage of adaptations, like Hidden Figures, Schindler's List, No Country for Old Men, and many more.
In many cases, the unique world draws people in, which is why so many fantasy and science fiction projects are IP and not original ideas. Eric Heisserer has successfully adapted both genres with Arrival and Shadow and Bone.
Relatability is Often More Important Than the Budget
The Hero's Journey (famously named by Joseph Campbell) is embedded in three-act structure and a protagonist's emotional arc. His work was based on studying different cultural myths and the "savior" arc. That arc has been used in countless books that were later adapted to film, including Lord of the Rings, The Lion The Witch and the Wardrobe, The Hunger Games, Harry Potter, and many more. 
With all the aforementioned projects, they utilized intense world creation that some writers shy away from writing for fear that it will cost too much, but Schmidt advises not to worry about the budget, at least at first, so long as the audience can identify with the story. 
"I can sell the highest of fantasies if a non-fantasy reader can identify with the character exploring it. I can't sell even the most relatable high school drama if we can't understand why they're making the decisions that they are."
Reinvent What Works
There's a reason that Jane Austen's books and William Shakespeare's plays have been either directly adapted or reinvented so many times. People love those stories and a writer who equally loves those stories puts that energy on the page in a way the reader can feel.
Literary manager, Jeff Portnoy acknowledges this by saying:
"You gotta find an idea that the writer is really excited about and passionate about writing. Otherwise, the product is not going to be great. The quality won't be there."
Bring that passion to your reinvention of a classic story, and have fun with the form in a way that you can't traditionally in screenwriting. This is what 2016 Launch Pad Manuscript Competition winner, Juliet McDaniel suggests. Her project, Mr. and Mrs. America, went on to be in development with Platform One Media and Laura Dern's Jaywalker Pictures. 
"If I'm writing a manuscript, I can do so much more playing around with the form without turning off the audience right away. If I'm writing a novel, I am the actor, the director, and the writer, and I need to make sure that I am helping the audience be in that character's head the whole time."
Get Feedback
No matter what the format of your project, you will never know how good it is or isn't if you don't let people read it. So after you create this amazing new book concept, make sure you have your peers and fellow book fans read it and even submit it to competitions where potential producers can get their hands on your work. 
---
Inspired to get your book out there? Enter the Launch Pad Prose Competition!